With the wisdom of
S
olomon, strength of
H
ercules, stamina of
A
tlas, power of
Z
eus, courage of
A
rchilles and speed of
M
ercury, he is
SHAZAM!
Released in February 2007, sentiment on various online message boards pegged the Big Red Cheese as an eagerly-anticipated addition to DC Direct's 13" line. The majority of fans were concerned that the initially solicited face sculpt redefined camp, as the
TV series
did. Thankfully, DC Direct listened to the fans, master sculptor
Andy Bergholtz
stepped in and the rest is history.
Packaging
DC Direct's packaging design is improving with every figure. Simple yet relevant vibrant colours are used, and the photos show Shazam in signature poses. However, using velcro fasteners risk damage to the package in the long run. I've seen this happen in stores where the boxes are placed upright and the flaps tend to open on their own, shifting the velcro
together with
the adhesive, causing damage to the package. If you're keen on keeping your package pristine, best to store it laying flat on its back. If it doesn't add any substantial cost to the figure, it'd be great if DC Direct adopted Sideshow's Star Wars packaging with magnetic fasteners.
Face Sculpt
Props to
Andy Bergholtz
for pulling off a great job here. Shazam's expression shows stoicism and strength, and the very slight smirk hints of confidence.
The face paint application on DC Direct's 13" line rarely disappoint, and this figure doesn't break the trend. That said, I'd strongly advise to pick out the figure personally where possible. I've seen figures with stray bits of paint along the hairline and eyebrows. Some figures have inexplicable scars as well, eg, a nick on the chin. You're paying a fair bit for this figure, so might as well shoot for as perfect a piece that you can find.
Body
Shazam has a ball-jointed neck, ball-jointed shoulders, cut biceps, double-jointed elbows, cut wrist joint, 2 hands with bendable fingers, 2 closed fists, mid torso joint, waist joint, ball-jointed hips, cut thigh joint, double-jointed knees, cut shin-joint and cut and pin ankle joints.
Here's a dated pix of Supes modelling the body.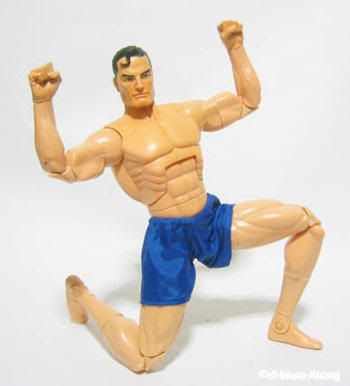 Having been spoiled by 1/6 scale bodies from BBI, Hot Toys and too a lesser extent, Medicom, the joints on this body don't really work. The cut biceps and thighs should go cos they look really unsightly when posed. Notice the unsightly buldge on the bicep when pulling off a hands-on-hips pose.
And the wrist joints are really terrible, I really wish DC Direct could consider switching to a ball-joint for the wrist.
The problem with the paint chipping off the bendy figures started with Clark Kent/Superman and its still dogging this figure. How bad is it? When trying to remove the hand out of the plastic insert, some paint flaked off.
Problems aside, you can still get a fairly decent variety of poses from him and he balances well.
Costume
The fabric isn't a skin-tight fit and flows nicely, which works very well for this character. It would be better if the button had the same shiny gold colour as the solicit and package pix. The boots are of a different shade as well. I'm a bit concerned at how durable the material used for insignia is, as it felt abit flaky.
The cape is beautifully-tailored, tassels and all. However, its weight tends to pull the rope against Shazam's neck which is rather unsightly. I read suggestions from forum members about using thin clear rubber bands to recitfy this, but haven't attempted this myself.
Accessories
It was thoughtful of DC Direct to include
Mr Mind
in this package. It's cool that you get the hero and his nemesis in one package. Didn't get any shots of Mr Mind, my apologies. He also comes with a stand which isn't necessary as he stands perfectly fine on his own.
Parting Shot
While a welcome addition to the 13" line, its little details that trip up what could've been a really great figure. That said, DC Direct should be commended for listening to the fans this time round. If you can let the kinks slide, then go for it if Captain Marvel (hah! I said it) or the Justice League tickles your fancy.
Some random images
PS: Because you asked nicely, Jase