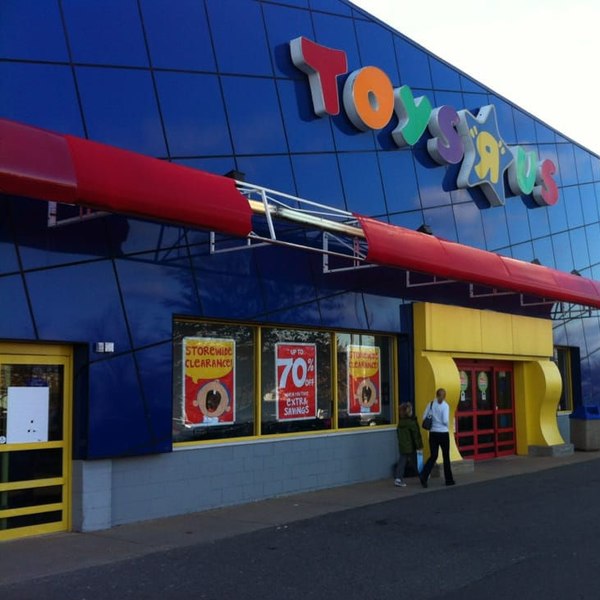 Update 3:
TRU has released an official press release today which does indicate that they are looking to keep 200 stores here in the US open.
Toys"R"Us also announced that it is pursuing a going concern reorganization and a sale process for its
Canadian and international operations in Asia and Central Europe, including Germany, Austria and Switzerland. The Company's international operations in Australia, France, Poland, Portugal and Spain are considering their options in light of this announcement, including potential sale processes in their respective markets
. The Company's stores in all these international markets are currently open and serving customers.
In connection with the sale process, the motion the Company filed with the Bankruptcy Court included bidding procedures for the Canadian operations.
The Company also disclosed that it is engaged in discussions with certain interested parties for a transaction that could combine up to 200 of the top performing U.S. stores with its Canadian operations.
While discussions continue on this potential transaction, Toys"R"Us is seeking court approval to implement the liquidation of inventory in all the U.S. stores, subject to a right to recall any stores included in the proposed Canadian transaction. You can read the entire
press release here
.
---
UPDATE 2
: A spokesman for Toys R' Us this morning has informed
USAToday
that they will honor gift cards for the next 30 days.
USAToday
also reports that things don't look promising for any stores remaining open in the United States.
Toys R' Us reportedly said in a U.S Bankruptcy Court filing early Thursday that it must liquidate, a move that will likely lead to the closure of all its stores and sale of remaining merchandise.

The company's main lenders "have determined that the best way to maximize their recoveries is to liquidate the existing inventory in all...735 remaining U.S. stores and begin an orderly wind-down of the U.S. operations."
This doesn't make 100% clear what is going on with the previously reported bid led by MGA Entertainment to buy the Canadian division of Toys R' Us as well as retaining around 200 stores in the US, but more and more it is seeming likely the end is near for the once mass toy retailer. We will continue to update this story as events unfold.
---
UPDATE:
For those wondering about the fate of Toys R' Us stores outside the US, UK and Canada,
BBC
reports the following:
"
The company is trying to sell it's international operations in Asia and Europe, including Germany, Austria and Switzerland.

Australia, France, Poland, Portugal and Spain are considering their options, including potential sale processes in their respective markets, but the retailer is likely to go into liquidation in France, Spain, Poland and Australia.
"
---
While we pretty much reported all this
yesterday
, it seems among all the misleading headlines out there this morning about this, it bares re-posting.
- So here is what is going on with
Toys R' Us as of Thursday (2/15) morning
. All
100 UK Toys R' Us
stores are expected to shut down in the
next 6 weeks
which will result in an estimated
3000 job losses
.
-
Toys R' Us
here in the
United States
is looking to liquidate and shut down
MOST
of their
800+ stores
. HOWEVER there is a bid in place from a group lead by the toy manufacture MGA Entertainment to
buy the Canadian arm of Toys R' Us which accounts for about 80 stores
as well as
keep between 200-400 stores here in the United States open
. These stores would continue to operate under the Toys R' Us name.
IF
the bid from the MGA group
fails
and no other buyers come forward in the last minute,
THEN
all Toys R' Stores in the United States will shut down for good, likely in the next 60 days. This statement was issued yesterday by the
Toys R' Us CEO
during a conference call to store managers:
"Unless a buyer comes forward, we are going into liquidation. All employees are guaranteed 60 days worth of employment, paid at their regular rates, as long as they choose to stay with the company. Some stores may yet be saved as part of the deal for the Canadian branch of the business."
IF Toys R' Us closes its doors completely in the United States that will generate job losses in the neighborhood of
33,000 people
.
The closure is also said to cost companies like
Hasbro
and
Mattel
profits from sales for 2018 in the neighborhood of 10-15%.
Toys R' Us
has already begun the
liquidation of 180 stores
here in the US which they announced earlier this year after experiencing weak sales during the 2017 holiday season. This was after they declared
chapter 11 bankruptcy in September 2017
to try an restructure all of the debt they accrued during the
2015 leverage buyout lead by Bain Capital
.
Toys R' Us
is expected to make it's appearance i
n Bankruptcy court later today (3/15)
, and that is when everything should be finalized and we will learn if any Toys' R Us stores will survive or not, so be sure to check back then for more details on that as they emerge.